Every year hundreds of Alumni gather in the chapel at Walsh Jesuit High School to remember those who have passed. Each person remembering a different alumni who left us far too soon. A brother, father, coach, mentor, sister, mother, friend, teacher, wife, husband. The list goes goes on. We grieve for them. We celebrate their life. We begin to heal. We help each other heal.
So today, on this fourth day of Movember, I remember a boy who should have become an alumni. A boy who should have gone on to play professional baseball. A boy who would have made a great father. A boy who was my friend and who I loved dearly.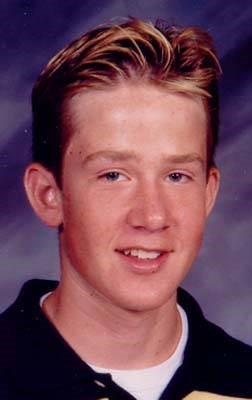 I met Kevin Neff when I was a sophomore in high school. His sister Mary and I were sitting together during lunch when he came over to ask her for lunch money. I became instantly quiet. Yes, you read that correctly. I,Elaine Shircliff, was quiet. Kevin fascinated me with his light hearted nature and devilish grin. Over the years we bonded over our love of Bob Marley and sports. He always had this uncanny way of putting a positive spin on everything. For instance, I used to hate the rain with a passion. I would complain about it constantly. "Rain? Why does it have to rain? It messes everything up. It's cold. Complain, complain, complain." One day Kevin had enough. He grabbed my hand, dragged me outside, and made me dance in the rain. In that one moment Kevin changed my outlook on things I can not control. In the fall of 2001 Kevin was diagnosed with brain cancer. I was on a constant emotional roller coaster. One week he was doing great. The next week he wasn't doing well at all. Kevin never complained through all of this. I took his lead. I sucked it up and smiled like there was nothing wrong. After everyone went to sleep I would take a taxi to the Neff's house. Kevin would sneak me in and we'd stay up all night talking about the most ridiculous things. The kind of things that make you laugh so hard you can't see straight. Kevin also taught me everything he knew about snowboarding and baseball. I taught him everything I knew about hockey and operas. We talked about our dreams and goals. We even made plans to go to every NHL hockey arena and MLB baseball stadium when he was better. The before school phone calls, the late night laughing sessions, and skipping school (sorry mom and dad)  to eat lunch with him went on for many months. In January of 2003 Kevin and I were on the phone talking about the upcoming "4th Day" retreat I was going on. I was worried because I didn't want to go an extended period of time without checking in on him. Kevin told me I was being stupid. He told me to go and not call him until Monday night. Kevin said he would be fine. Nothing would happen. At 5:30 that Monday morning Kevin lost his battle with cancer.
Kevin is one of the many reasons why I am constantly fighting against cancer. Please help me kick cancer in the butt by donating to me or my movember team here. Let's find a cure so we don't have to continue to watch bright,shining stars fade away.
If you can't donate my hope is you take one thing with you. No matter how tough life can be there is always something to make you smile. That is what Kevin taught me.
This is the point in this post where I apologize to two sets of people. 1) Mr and Mrs Neff: I'm sorry for anything I may have broken or spilled in your house. You can blame it on Kevin since he let me in while you were sleeping. 2) Any of Kevin's friends : I'm sorry if you were blamed for anything broken or spilled. Mr and Mrs. Neff didn't know I was in the house after hours. I just let you take the blame.