If you missed the first part of this list, it went like this:10.Tim Kerr

9.Cam Neely

8.Wendel Clark

7.Pavel Bure

6.Pat Lafontaine  

Here are the top five "What could have been?" careers -
5.Peter Forsberg - Originally drafted by Philadelphia in the first round of the 1991 draft, he was dealt to the Quebec Nordiques in the Eric Lindros deal in 1992 before ever actually playing for the Flyers. Before making a name for himself in the NHL, he etched his name in the hockey history books by scoring the gold medal winning goal for Sweden in the 1994 Olympics in Lillehammer. He made his NHL debut six months later, capturing the Calder trophy in the shortened lockout season with 50 points and a +17 rating in 47 games. He shot up to fifth in league scoring in his sophomore season, racking up 116 points in a full 82 games. He was among the NHL's elite and proved to be a playoff performer as well – helping Colorado to a championship. It wasn't long after that the injuries would begin to pile up, Forsberg would miss 33 games in the 1999-00 season after undergoing shoulder surgery in the summer. He had his spleen removed during the playoffs the next season and sat out all of 2001-02. What's amazing is that he returned for the playoffs and led all scorers in points, even though he and the Avs fell short of the Stanley Cup Final. The only full season he would play after that was the 02-03 season (75 games), where he captured both the Art Ross and Hart trophies. A foot injury would hamper Forsberg's career from that point on, and limited him to just 167 games over the next four seasons with stints in Philadelphia and Nashville, and then a brief return to Colorado.
Forsberg was a dominant 2-way center with Gretzky-like vision all over the ice, and added a physical element as well. At times, it seemed all his opponents could do was stand still and watch him as he circled around the offensive zone with the puck at will to make a play. On a personal note, a cousin of mine grew up in Winnipeg with Brad Chartrand – a checking line player who had a five year run with the Los Angeles Kings. Before the Kings quarter-round playoff match-up vs the Avalanche in the 2002, Chartrand was told only to do his best to stay with Forsberg and not to even bother trying to engage him physically as it's useless and counter-productive. As much as Joe Sakic was the man in Colorado, something worth noting is that Forsberg had a better points per game average in the regular season and in the playoffs while both were with the franchise. Finishing his career with a +238 rating, he never once had a minus rating other than the -2 he put up in his two games with the Avalanche in 2011. Before he made his debut with the Nordiques in 1994, Forsberg was considered "The best player in the world – not in the NHL". For a lot of his career, you could argue that he carried just the first part of that label.
4.Eric Lindros - Not many, if any, have ever had the combination of size, strength, and skill that Eric Lindros possessed. He dominated in juniors and was already hailed as "The Next One" at the age 16. In 1991, the Quebec Nordiques drafted him 1st overall even though he had already stated that he would never play for them. He played for the Canadian national team during what was suppose to be his rookie season, awaiting a trade from the Nordiques, and dominated with 19 goals and 35 points in just 24 games. He was even selected to play for Canada in the 1991 Canada Cup when veteran NHLers like Steve Yzerman, Joe Sakic, and Ron Francis were left home. His 18 year old birth certificate suggested he was a kid, but his play proved otherwise. He was dealt to the Flyers in 1992 in a blockbuster deal, and made his NHL debut at the start of the 1992-93 season. He proved immediately to be worth every bit of attention he garnered in junior, bringing new definition to the term power forward. At age 19 he proved to be too much to handle physically for most grown men in the league, and offensively his 41 goals and 75 points in just 64 games made him an all-round force. He followed his rookie season up with 44 goals and 97 points in just 65 games, and in just his third season (the shortened lockout year) he tied Jaromir Jagr for the league lead in points with 70 in 46 games – two less games than Jagr. The Hart trophy was rightfully given to The Big E, as he was clearly the most dominant player in the league.
His physical style made him a force, but it also played a role in his demise. He threw his body around more than anybody and also took his share of hits, most notably from Scott Stevens in the 2000 Eastern Conference final. He eventually succumbed to several concussions and was never the same player after leaving Philadelphia. If you take his eight injury filled years in Philadelphia, Lindros averaged 49 goals and 112 points per 82 games – only Jaromir Jagr had a higher points per game average out of all players who were in the NHL for that entire span. He was also a +188. People tend to criticize Lindros, claiming he never lived up to the hype. The fact is, he was every bit the player he was expected to be and then some. Had he been able to stay even relatively healthy, we're looking at a top 10 scorer on the all-time list. Instead, his place in the Hockey Hall Of Fame remains in the balance when the guy who is quite possibly the most dominant power forward the game has ever seen, would have been a lock.
3.Mike Bossy - One of the greatest goal scorers the game has ever seen, Bossy lit the lamp for the Islanders at an incredible pace from the jump – setting a then rookie record of 53 goals in a season. Fourteen players were drafted ahead of him in the 1977 NHL draft as he was seen as a "timid player", his goal was to prove he could be a dominant NHLer. After surpassing the 50 goal mark in his first three seasons, Bossy would set his sights on something only one player had ever accomplished in the history of the game – 50 goals in 50 games. Of course Maurice Richard being that lone player 36 years prior, but Bossy made this his goal. He accomplished his goal with a late tally at home against the Quebec Nordiques in one of the more magical moments in hockey. A major piece of the Islanders' dynasty, he kept the same goal scoring pace in the playoffs throughout his career with 85 goals in 129 games, and one of those playoff goals was the Stanley Cup winner in game four vs the Vancouver Canucks in 1982. He was awarded the Conn Smythe trophy for his 17 playoff goals that year – a number he reached three playoffs in a row beginning the year prior. In the 1981-82 season, he set a record for right wingers with 147 points, a number that only one right winger (Jaromir Jagr) has managed to top since with 149.
To this day he still holds the modern day record with a career goals per game average of .762 – which works out to an average of just over 62 goals per 82 games. He also holds the record for consecutive 50+ goal seasons with nine (his first nine NHL seasons as well), something not even Wayne Gretzky managed to do. Bossy eventually succumbed to severe back issues and failed to make it ten straight 50+ goals seasons. He played in just 63 games in 1986-87 – still sniping an impressive 38 goals. It would unfortunately end up being Bossy's last season, as he could no longer continue. He finished his career with an amazing 547 goals and 1126 points in just 753 games. Though not the all-round type of player as Eric Lindros and Peter Forsberg listed above, Bossy gets the nod at number three for the sheer fact that had his career not come to a screeching halt, it's a good bet he joins Wayne Gretzky and Gordie Howe as the only players in history to reach 800 career goals. He most definitely accomplished what he set out to prove.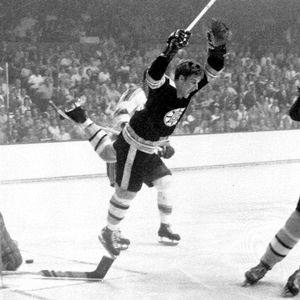 2. Bobby Orr - He scored the most famous goal in NHL history, and has the most famous knees in hockey history too. To this day he remains the only defenseman to have won a scoring title, and he did it twice. His 139 points in 1970 is still the record for points by a defenseman in a single season, and in 1975 he almost matched that total with 135. He strung together a record eight straight Norris trophies, from his second season in 1968 through to his last full season in 1975. Denis Potvin would end his streak in 1976 as Orr would only manage to play ten games due to his constant knee problems. He was the first defenseman to record 30 goals in one season, first defenseman to record 40 goals in one season, and the first player to record 100 assists in one season. His 100 assist season came just two seasons after Phil Esposito became the first player to record even 100 points in a season. He holds the record for the best +/- ever recorded in one season with an unheard of +124 in 1971. During a six year run from 1969 to 1975, Bobby Orr scored 734 points as a defenseman – that's an average of 122 points per season.
His accolades go on and on, as number 4 completely revolutionized the defense position and dominated the NHL in every way. His skating and play making abilities were second to none, and he was as tough as nails too. He simply did it all. Unfortunately, no amount of toughness could prevent his several knee surgeries over his career, and they began to slow him down. He managed to play in just ten games in the 1975-76 season and after his agent dishonestly failed to relay contract negotiations between he and the Bruins in the off season, he would sign on with the Chicago Blackhawks. He would only manage 26 games with the Hawks in three years, sitting out the entire 1977-78 season. His severe knee problems finally caught up to him completely and sadly he was forced to retire at the age of 30. Many consider Orr to be the greatest hockey player to ever play the game – maybe he is, maybe isn't – but I'm not about to argue.
1. Mario Lemieux – He fired 247 goals and 562 points over his 200 games with Laval of the QMJHL in his junior days. Le Magnifique's NHL career got off to a perfect start – scoring on his first shot on his first shift in his first game. He managed 100 points in his 1984-85 rookie season on a pretty bad Penguins team, turning 29 year old rookie/career minor leaguer Warren Young in to a 40 goal scorer in the process. It didn't take long for the hockey world to begin the debate over who was the best player in the game, Lemieux or Gretzky?  He missed four games in the 1988-89 season and finished with 199 points for his second straight scoring title, and those four extra games could have easily meant 210 points and suddenly Gretzky has company in the exclusive 200 point club. He ended up missing most of the 1990-91 season with a herniated disc, and then returned to lead the Penguins to their first Stanley Cup – dominating the playoffs with 44 points in 23 games and capturing the Conn Smythe in the process. He followed that playoff performance up with another dominating one in '92 – again leading Pittsburgh to a championship and snagging the Conn Smythe.
What could have turned into his best offensive season ever, turned into his biggest battle. In 92-93 he was on pace to break Gretzky's single season point and goal records, then cancer struck and forced him out. That still didn't stop him from capturing the Art Ross though, as he miraculously stormed back two months later to overtake Pat Lafontaine in the final weeks of the season. He retired in 1997, only to return in the second half of the 2000-01 season and prove he could still play. At 35 years of age, he incredibly posted an amazing 35 goals and 76 points in just 43 games after his four year absence. He continued his ways for another 127 games over an injury filled four seasons, until retiring from the game for good in January 2006. Over his career, he captured six Art Ross trophies despite only ever reaching the 70 game mark six times – his 92-93 title was won in just 60 games. While the other nine players among the top ten all-time scoring leaders have each played close to 1300 games or more, Lemieux sits at 7th all-time playing just 915. His skill level was un-matched, often doing things nobody else could do and making it look easy in the process. His combination of size and grace made him unstoppable.
Lemieux and Orr could be flip flopped on any list such as this, but for the very fact that Mario Lemieux is the only player who posed a threat to some of Gretzky's offensive records had he been healthy, he tops my list.
Thanks for reading. Find me on Twitter at travcurrie