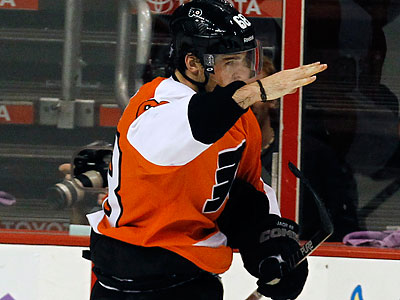 What a whirlwind couple of weeks it's been so far for the Dallas Stars. In the trade department, the first move was trading Mike Ribeiro for Cody Eakin and a pick at the draft, then fan favorite Steve Ott was dealt to the Sabres for Derek Roy on Monday. Joe and Tom have also dipped in to the free agent pool in the last couple days – signing both Ray Whitney and Aaron Rome Sunday, and now adding Jaromir Jagr to the mix.
Jagr spent last season with the Flyers after a a three year NHL hiatus. His 54 points in 77 games isn't exactly Jagr-esque, but he showed he can still play and he received nothing but rave reviews from the Flyers about his work ethic and commitment. Those attributes, along with his skill and cache he still carries are exactly what the Stars need right now to return to relevancy. That relevancy has been missing for a few years now, not only league wide but at home in Dallas as attendance has been hitting lows that the franchise hasn't seen since 1990 in Minnesota.
The 40 year old Kladno, Czech Republic native currently sits eight on the NHL's all-time points list (70 behind Mario Lemieux) and is first among all Europeans born players. He's not the 100+ point player he use to be, there's a little more grey in the facial hair and his mullet has long since clogged someone's drain, but he is an upgrade and he rounds out the new look top six quite nicely. Being that his $4.55 million dollar contract is only for one year, it along with fellow geriatric Ray Whitney's two year contract won't hamper the team financially down the road.
Having guys like Whitney and now Jagr around will also create a much better environment for the youngsters, which is a positive that shouldn't be overlooked.
Quote of the day from Twitter goes to Tony Jaremko, @Stars_Insider – "Does Jagr know that if he comes play in the south, the mullet is widely accepted?"
Thanks for reading. Comments very much appreciated. Find me on Twitter at travcurrie