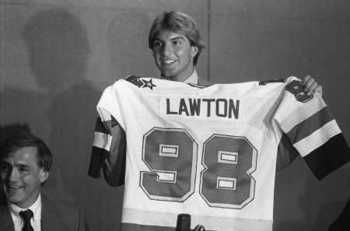 As many bright spots as there are when looking through any team's draft history, you see far more blemishes that they'd rather just forget all about. Some times it's an error with scouting projection, some times it's not grooming the player properly after he is drafted, and some times it's simply a matter of flipping a coin and having it not land in your favor. Either way, a miss is a miss and big ones can really hurt your team down the road.
The draft really looks more like a crap shoot as the years go by and the long list of bright young hopefuls dwindles down in to a very short list of players who actually made a career out of playing in the NHL. Not unlike every other team in the league, the Stars have seen their share of disappointments.
So let's get to it:
The Misses
1. Brian Lawton –  1st overall in 1983
Out of Rhode Island's Mount St.Charles High School, Lawton showed tremendous scoring ability scoring 86 goals and 171 points in 49 games over two seasons. Some were leery about a player out of a U.S. high school as opposed to the junior ranks in Canada, but the North Stars were convinced. They made him the first ever American born player to be taken 1st overall in the NHL entry draft.
Lawton managed 10 goals and 31 points in his 58 game rookie season in 1983-84 – not the immediate impact the North Stars were hoping for. He managed to show a bit of the scoring prowess the North Stars drafted him for with 21 goals in 66 games a few seasons later, but in 1988 the North Stars had given up. They sent him to the Rangers in a package deal involving players and a draft pick. Lawton played just  303 games with Minnesota over five seasons, scoring just 71 goals and 162 points.
What makes things worse is that Pat Lafontaine and Steve Yzerman went 3rd and 4th, respectively. Among the other names taken in the top 12 were Tom Barrasso; John MacLean; Cam Neely; and future star Dave Gagner just to name a few. There are some silver linings in this though, as prospect and future team captain Mark Tinordi was part of the return package from the Rangers, and Lawton's failure to live up to expectations helped get us Mike Modano with the first pick in 1988.
Lawton has since stated that most of the North Stars veterans were pretty hard on him as they assumed him as a cocky young player with a sense of entitlement before giving him a chance – choosing number 98 as a rookie may not have helped that either. One game Latwon's parents attended, they met him afterwards and were astonished at the bruises he was sporting. When they commented that it must have been a brutal game, Lawton informed them that they weren't from the game, but from his own team mates during practice. That may have played a big role in his inability to ever get going. Nevertheless, this goes down as one of the biggest misses in NHL history at the end of the day.
2. Five picks / two rounds – 1981
By the time it was Minnesota'a turn to pick with their number 13, defensemen Ron Meighan and Al Macinnis (pictured) were still waiting to be picked. Wait! Before you get excited, remember this is part two – "The Misses". So the North Stars selected Meighan. Macinnis would go two spots later to the Calgary Flames. Macinnis racked up 374 goals and 1,274 points in 1,416 games, earned four 1st and four 2nd Team All-Star selections, as well as the Conn Smythe in 1989 and a Norris trophy in 1999. Forgive Meighan if he was unable to duplicate that in his 48 career games, 41 with the Penguins.
But that's okay, the second round will be better, right?
With four picks in the second round, the North Stars selected Dave Donnelly 27th; Mike Sands 31st; Tom Hirsch 33rd; and David Preuss 34th. Huh? As if that wasn't bad enough, with the 40th pick the Montreal Canadiens grabbed Chris Chelios – another Hall Of Fame defenseman passed up on by the guys doing their diligence down at the Minnesota table. Three time Norris winner Chelios would be named to the NHL's 1st All-Star Team six times and the 2nd Team twice, along with his three Stanley Cups.
3. Scott Cashman – 112th overall in 1989
 You wouldn't normally think that the 112th pick in the draft could turn out to be so significant, but in the North Stars case in 1989, it was. With the draft being held at home in Bloomington, the North Stars selected Canadian Junior A goaltending standout Scott Cashman. He went on to play a few seasons with Boston College, but eventually fractured his tailbone and was diagnosed with Ankylosing Spondylitis – inflammation of the vertabrae – and was told it could lead to arthritis of the spine so Cashman retired from hockey without ever playing a game in the NHL.
Cashman unfortunately passed away in 2008 at the age of 39 due to complications with a heart defect, leaving behind his wife and two children. Given the unfortunate circumstances, it makes it difficult for me to place him on this list however, with that aside and just focusing on the hockey side of things…..
The very next pick in the draft belonged to the Vancouver Canucks. They selected a talented Russian you may have heard of by the name of Pavel Bure (pictured). Was there any way to know that Bure would go on to score 437 career goals in 702 career games while Cashman would suffer a career ending injury before he even got going? Of course not, and maybe Bure would have been sniffed out and taken a lot earlier in a more recent draft as scouting just wasn't as thorough back then as it is now. But looking back and realizing the North Stars had the Russian Rocket right under their grasp, with the draft in Minnesota no less, makes this one to look back on.
4. Dave Archibald –  6th in 1987
With the North Stars going hitting a skid after a franchise record seven straight playoff berths, they owned the 6th overall pick in the 1987 NHL draft. Pierre Turgeon was the favorite and would be chosen first by the Buffalo Sabres, while Brendan Shanahan would go number two to the New Jersey Devils. With the 6th pick, the North Stars selected high scoring Portland Winter Hawks winger Dave Archibald. He went on to play just 162 games for the North Stars over parts of three seasons, scoring just 28 goals and 72 points, before being dealt to the Rangers for Jay More early in the 1989-90 season.
To make matters worse, the Quebec Nordiques selected Joe Sakic just nine picks later. Despite having better junior numbers than any other forward in the draft other than Turgeon, he was passed over because he was seen as "too small and not fast enough". Some times the numbers are there for a reason, ya think? Like Lawton, Archibald had a hand in landing us Mike Modano with the first overall pick in 1988. Hey, you gotta find the silver lining.
5. Almost everybody – 2002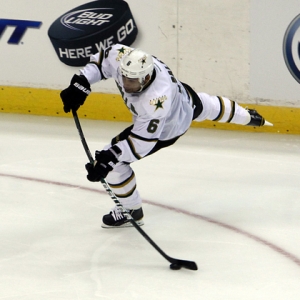 With five picks bunched up late in the first round and early in the second, there was hope that the Stars would be able to do okay in this one. You don't really expect big impact players at this point in the draft, but at the very least you expect some organization depth. Picking Martin Vagner 26th; Janos Vas 32nd; Tobias Stephan 34th; Marius Holtet 42nd; and ironically picked last out of this dubious pack – Trevor Daley at 43. If not for Daley – who is a solid NHL defenseman but no superstar by any stretch – this draft is a complete wash for the Stars.
It should also be noted that defenseman Duncan Keith was selected by the Blackhawks with the 54th pick. Solid NHLers Jarret Stoll and Matt Greene were taken 36th and 44th, respectively. The inability to stock the shelves with any quality youth with those picks besides Daley really set the organization back and it shows how important the draft is. To be fair, other than a few scattered first rounders and the above mentioned players, this was a very weak draft. Still though, going 1/5 that early is not good.
6. Mike Craig - 28th in 1989
Winning two World Junior gold medals, earning a 1991 World Junior tournament all-star nod, as well as a Memorial Cup and some good junior numbers to boot – Mike Craig was a promising youngster in the North Stars' organization. Taken 28th overall in the 1989 draft, he and line mate Eric Lindros formed a dynamic duo for both the Oshawa Generals and Team Canada at the World Juniors.
Where Lindros would go on to be a dominant player in the NHL for years before concussions took over, Craig never did get going. He played 248 games with the Stars, scoring just 51 goals and 118 points. He signed with Toronto after one season in Dallas and eventually finished his career in San Jose. He played a total of  423 NHL games over parts of nine seasons. Just a case of the player never being able to meet expectations.
7. Todd Harvey – 9th in 1993
Like Mike Craig, Todd Harvey was simply another good prospect who just failed to live up to lofty expectations. Harvey had a great junior career. The gritty OHL star totaled an impressive 113 goals and 271 points in 173 games over three seasons. He won gold with Canada in both the 1994 and 1995 World Junior Championships – captaining the team in '95. Expectations for him to be a gritty two-way player with leadership abilities were fairly high, but they were simply never met.
Harvey was gritty enough and eventually became a serviceable player, but his offense in junior never translated in to offense in the NHL. He played 239 games over four seasons with the Stars, scoring 38 goals and 99 points. He was dealt to the New York Rangers in 1998 along with Bob Errey in exchange for two major pieces of the Stars' 1999 Cup winner – Mike Keane and Brian Skrudland. Harvey made a four year stop in San Jose before finishing his career in Edmonton in 2006. Among other players taken after Harvey in the first round were Adam Deadmarsh; Saku Koivu; Jason Allison; and Todd Bertuzzi.
8. Jason Botterill -
In a draft that turned out almost twice as many NHL stars taken beyond the first round as it did actually in the first round, the Stars were basically picking from what looking back appears to be first round leftovers. With a few solid NHLers taken earlier in the first round, the Stars grabbed Michigan Wolverines star Jason Botterill. A big power forward at 6-4 220lbs, Botterill won gold with Team Canada at the World Juniors in 1994, 1995, and 1996.
He made his debut with the Stars in the 1997-98 season playing in four games, while playing another 50 down with the Michigan K-Wings. He played another 17 with the Stars and 56 down in Michigan the following season. In his 21 games with the Stars, he failed to hit the score sheet other than putting up 42 penalty minutes. He played another 67 games in the NHL with Atlanta, Calgary, and Buffalo over parts of five seasons. He failed to make any type of impression and just simply didn't pan out.
9. Ric Jackman - 6th in 1996
Okay I'll get this out of the way early, 1996 was not a very good draft. Only about ten players in the whole draft became anything substantial. The top two players by far were taken 24th (Daniel Briere – Winnipeg Jets) and 56th (Zdeno Chara – New York Islanders). After that, it's a toss up between Danius Zubrus; Derek Morris; 1st overall Chris Philips; J.P Dumont; Marco Sturm, you get the idea.
With the 6th pick, the Dallas Stars selected rugged defenseman Ric Jackman from the Sault Ste. Marie Greyhounds of the OHL. He played just 38 games over two seasons with the Stars and was shipped to Boston for Cameron Mann. Probably a victim of circumstances, he tried to force his way on to a deep blue line in Dallas in the last 1990s and early 2000s – a daunting task for any young defenseman. He did manage some success in Pittsburgh eventually between 2003 and 2006 – scoring 52 points in 72 games over two seasons. He finished his NHL career by winning a Cup with Anaheim in 2007. Jackman played in 231 games over seven seasons as a journeyman defenseman. He was actually fairly serviceable for the most part but just didn't manage to find his way, especially in Dallas.
10. Brad Palmer – 16th in 1980
Brad Palmer was a good skater with a heavy shot, and showed some of that as a rookie on the North Stars' run to the Cup final in 1981. Scoring eight goals and thirteen points in nineteen playoff games, he was a big part of a talented group of youngsters leading the charge in Minnesota in the early-mid 1980s. He followed that up with a respectable 22 goals and 45 points in his first full season in the NHL. Unfortunately for Palmer, he was dealt to the Bruins in the off-season for future considerations. The considerations were for the promise from Boston, who held the first pick in the 1982 draft, would leave highly touted Brian Bellows for the North Stars who were picking second.
Palmer would play just the one season in Boston and score just six goals. He was demoted to the farm team and headed to Europe soon after. The fact that Palmer was actually fairly good for the North Stars in his brief stint makes him hard to put on this list. As does the fact that he helped bring us Brian Bellows. But putting it in to context of what he amounted to in his career, combined with the fact that Islanders great Brent Sutter was selected with the very next pick, makes this more of a miss than a hit.
Thanks for reading. Comments are very much appreciated. Find me on Twitter at travcurrie